Process
Inward Goods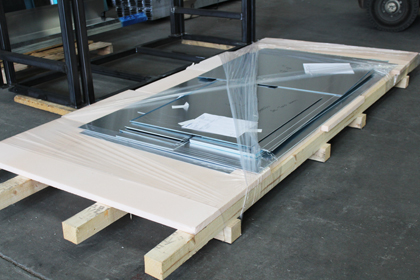 Sure receive materials, through collection or delivery, whereupon it is sorted and processed by our trained and skilled operatives.
Materials are visually inspected prior to processing, to ensure there is no evidence of damage or fault within the metal.
Each job is issued with an individual job number against which it can be identified throughout each point of the coating process. This traceability is supported by our British Standard accreditation.
Pre-Preparation
It is important to remember that no matter what the quality of powder or application, this is only as good as the chemical pre-treatment underneath it.
Pre-treatment is a critical step in the powder coating process and our state of the art pre-treatment facility, together with our affiliation with recognised chemical suppliers give confidence in the pre-treatment applied
Sure have a 5 stage pre-treatment process, including demineralised water and the ability to offer chrome free pre-treatment. Our pre-treatment plant offers a pristine finish to aluminium alloy extrusion sheet or preformed sections in readiness for the powder application.
With our in house testing laboratory, testing the tanks everyday to ensure they are running correctly.
Powder Application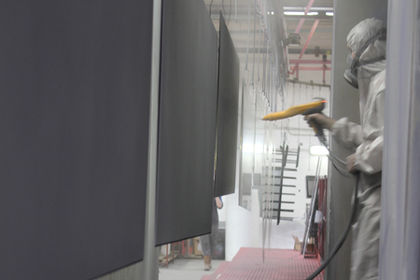 The architectural powder coating is applied by skilled technicians using state of the art, manual and automatic electrostatic spray equipment.
This gives a consistent, reproducible, high quality durable finish, with a minimum coating thickness of 60 microns.
In this process, powder is mixed with compressed air and fed through a spray gun where the powder particles are electrically charged. This charge causes the powder particles to be attracted to, and cling to, the earthed work piece.
All powders used are Qualicoat Approved
The final stage of the coating process is to thermally cure the coating under closely controlled conditions. This curing ensures the adhesion between the paint and the underlying metal.
Sure provide a powder coating service for some of the most significant fabricators within the architectural industry and leading signage, security fencing companies and a consistent reproducible high quality finish is paramount.
Sure coat in accordance with the BS6496 / BS 12206 specifications and the quality of the finish produced is exceptional. The closely controlled system of pre-treatment and application is demonstrated in the quality produced in the finished product.
Quality Control & Finish
Quality control is paramount to the confidence in our coated products. We have invested heavily in our personnel and testing equipment to ensure that the quality of the finished produced by Sure is not only to British/European Standards but second to none
All materials are checked off the line by our trained inspectors and test results recorded appropriately.
We also operate a quality laboratory, which together with external audits checks:
Visual Appearance / Exterior Exposure

Adhesion

Impact resistance

Flexibility

Conical Mandrel / Cracking

Drilling / Flaking

Permeability / Blistering

Salt Spray Test

Natural Weathering

Film Thickness

Gloss Levels
Packaging & Despatch
Materials are packaged in a corrugated lined stillage. Materials are only packed when they have been passed by our QC departments and you can therefore be assured of the quality inside our stillages
Packaging for the protection of the finished goods is an integral part of our service and we pride ourselves on the quality of our packaging. We are constantly reviewing our packaging policies for the benefit of the environment
We also offer a low tak taping service, which is a highly protective tape used to minimise packaging but also to protect the finish during installation.
Our location in East Yorkshire is ideally placed for the motorway network and we offer nationwide transport. Our drivers are ambassadors for the company and you can rely on their competence when handling your materials.
From receiving your goods to the return of finished materials, you can be assured of the quality of service received by Sure Powder Coatings Ltd.
Taping
After the powder coating of materials, Sure can offer a low tak taping service to protect significant surfaces against abrasion during transit and installation.